Talking Berries with Head Pixie, Gary Wishnatzki
What's it like sitting down with third-generation family-owner of Wish Farms, Gary Wishnatzki? Berry, berry fun!
He's not like most CEOs; in fact Gary Wishnatzki nixed his title as CEO to become Head Pixie when he transformed his three-generation family-owned business Wishnatzki Farms into the consumer brand, Wish Farms in 2010. With that, Misty, the Garden Pixie mascot was born and his business would now be more memorable to the people consuming his produce. Gary continues to take great pride in continuing his family's legacy, while upholding the company's core values of quality, integrity and responsiveness.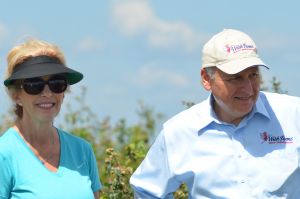 What do you think happens when you tell your family you're going to re-brand a business you've had for three generations? Well, it didn't quite go as planned…
Gary thought his family would be thrilled with the transition. Unfortunately, he was wrong. They were all completely taken back from it and gave him a really hard time — especially his wife. Don't worry; he assured me they've all come around now. Going back, Gary thought about when his grandfather arrived in New York in 1920 and met with the local buyers, everyone called him "Mr. Wish" and in the industry people have been saying Wish Farms for short. It was something he could build off of and something that was already memorable to most. 
To give you a better perspective, maybe it would help if I planted the seeds of the Wish Farms family history. In 1900, Harris Wishnatzki (Gary's grandfather) immigrated from New York City and began selling produce from a pushcart, which soon led to starting a wholesale business in 1922. Eventually, the entire family became involved in buying produce in Central Florida and made their way down south. When Gary's grandfather came to Florida, farms were just a few acres and the size of your farm was dictated by the size of your family — the bigger the family — the larger the farm.
I asked him what it was like back then to be a kid and grow up in Plant City in the summer and wintertime. Gary told me about how most kids in Plant City went to "Strawberry School" in the summertime. Sounds a little backwards doesn't it? The reasoning makes perfect sense; it was so they could be out of school in the winter months to help pick berries during those very busy and profitable months (In case you didn't know, Plant City is the Winter Strawberry Capital of the World.). Back when his grandfather first started farming berries the average strawberry farms were 5-10 acres and now the average is close to 100 acres, or several hundred.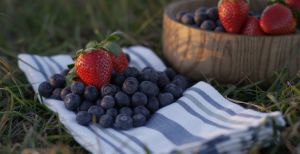 We know the strawberry business is huge, but what about the blueberry business — how do they differ (back then and today)? Gary laughed when I asked him about the main difference between blueberry and strawberry farmers. He told me back in the day blueberry growers used to tell you how many plants they have and strawberry farmers always tell you about how many acres of land they had. Interesting enough blueberry plants can last 15+ years compared to strawberry plants, which are only used for a single season. There's no doubt strawberry business is big business in Plant City, but the strawberry business isn't the only thing skyrocketing. Blueberries are following the same path strawberries did, from years past to today. And best of all, most of the farms and growers you see in Plant City are third and fourth generation family-farmers; a surprising fact and misconception to most people who assume they are all owned by big corporate farms.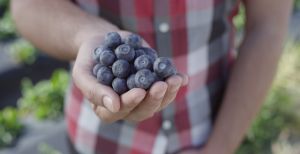 Being Head Pixie Gary Wishnatzki, what's the best part about running a berry business? Eating unlimited Florida blueberries and strawberries would be my first guess! Gary likes to eat his blueberries straight from the farm. There's no stem to discard, so they are quick and easy to enjoy. They are great to pack away for a kids snack, easy to freeze (he even eats them frozen) and they are packed with amazing health benefits like antioxidants. He also enjoys both kinds of berries on his cereal every morning, which sounds delicious and everything, but what's his absolute favorite blueberry treat? He really enjoys blueberry pancakes and lucky for Gary, they are featured on our Élevage restaurant menu(along with other blueberry dishes) inside the Epicurean Hotel all through the month of April in celebration of Florida Blueberry Month!