The Perfect Pairing: Yoga and Wine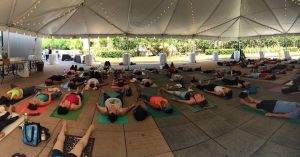 What happens when you combine yoga and wine? We not only consider it a perfect pairing, it's also known as "Yoga with a Twist!"
Take a class (and enjoy a glass!) every last Sunday of the month at the Epicurean Hotel during Yoga with a Twist. All yogi levels are welcome to join us on Epicurean's second-floor garden terrace for a feel-good, Florida-sun flow hosted by Megan Blizard of Kodawari Studios.
Cost is $15 for the class or $20 for the class and a glass (includes one drink ticket). This was a very popular class last month, so we encourage you to book your mat spots early and any remaining spots can be purchased with cash day–of, prior to the class.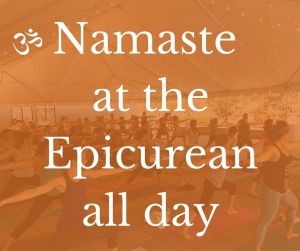 Tips for yogis: They call it "Yoga with a Twist" for a reason. You'll be twisting your body, turning it upside down and bending it forward quite a bit, so don't eat a full meal at least two hours before class — an emptier stomach leads to a more enjoyable practice. Be sure to drink 1–2 liters of water to keep you fully hydrated.
All yogis should plan to arrive early to give them enough time to check in with your ID, yoga mat, water and towel.
Awaken Appetites Unknown
Yoga with a Twist attendees are invited to refuel after class with 10% off Élevage Brunch menu items (brunch reservations are highly encouraged). Other perks include: Special happy hour drink offerings and 15% off spa treatments.
New this month: For every yogi in attendance, Conscious Coconut will give a child a meal through Feeding Tampa Bay, the largest hunger relief organization in the community, serving a food-insecure population of more than 700,000 people in a 10-county area.
Be one of the first five yogis to arrive, and you'll get a FREE tube of Conscious Coconut oil!