The Refinery and Fodder & Shine: Epic Chef Showdown Restaurant Profiles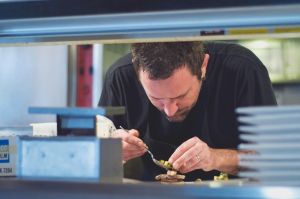 Executive Chef, Greg Baker is a pioneer to the local restaurant community, especially in Seminole Heights. His two restaurants, 
The Refinery 
and 
Fodder & Shine
 are both competing against each other in the 
Epic Chef Showdown 
benefiting
 Feeding America Tampa Bay
at the Epicurean Hotel.
The Refinery is a popular restaurant (especially with the locals) that changes their menu every week using locally-sourced cuisine and a focus on the 
farm-to-table
 craze everyone talks about. Fodder & Shine(located not even a mile down the road from the Refinery) is cracker cuisine – defined. A tribute to old-school Florida culture and the would-be cowboys who populated our state in the early to mid-1900s. Both restaurants serve an elevated experience, using only the best ingredients, that won't break the bank. Here's a little snapshot about Chef Greg and a his two restaurants here in Tampa you definitely want to check out!
Kat: What inspired you to be a Chef?
Chef Greg: 
I began cooking professionally while still in high school. After graduating, I like to think that I attempted, rather than attended college. After dropping out for a third time, I started questioning my path and realized that cooking is what had been paying the bills for the last several years and that it may just be the career that I was meant for. I graduated from Portland, Oregon's Western Culinary Institute in 1988.
I worked under several talented, but little known chefs, eventually taking my first che
f
 position in Portland in 1995, before returning to Tampa in 2010 to open The Refinery with my wife, Michelle. I was most inspired by Mark Andresick – he opened my eyes to contemporary American cuisine before it hit the cultural zeitgeist; he took me fro
m country 
club-style cooking into modern food. And also, Pat Mendola, who gave me my first chef job and truly taught me what it was to be a chef and keep a business running.
Kat: Where does your passion stem from?
Chef Greg: 
I would rather work with four
 ingredients than 16. I appreciate finding the complexity in simplicity. I'm also passionate about the idea that all people should ha
ve access to good, quality food
. 
Kat: What's the best dish in each of your restaurants?
Chef Greg: 
It's impossible to say at The Refinery – I re-create my restaurant on a weekly basis where all my signature dishes come off the menu, regardless of how popular they are. In over five years, I have never repeated a dish. That in and of itself has become a signature. Everything at Fo
dder & Shine is just plain good. Our goal was t
o create a comfortable environment that celebrated the food and drink ways of the South. Food quality is still of utmost importance, but it's a restaurant where guests are meant
 to kick back and stay a while.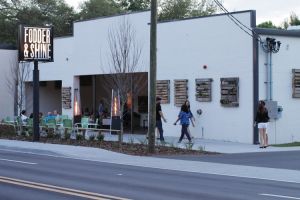 Kat: Why is participating in the Epic Chef Showdown important to you?
Chef Greg:
 It's a fun way to raise money and awareness for Feeding America Tampa Bay. We're looking forward to seeing our guys compete against each other.
 Both of our restaurants, The Refinery and Fodder & Shine are competing against one another!
Kat: Have you participated in Chef throw-downs like these bef
ore? If so, what were they like?
 If not, what do you expect? 
Chef Greg:
I haven't – since I'm not really participating – my guys are – I'm not sure what to expect.
Just looking forward to seeing them compete against one another!
Kat: Out of all the other Chefs in the competition, who do you hope you are paired with?
Chef Greg:
 N/A 
(Both of our restaurants are competing against each other.)
Kat: How can we as a community, come together and fight hunger in our Tampa Bay?
Chef Greg: 
It would be wonderful if we could find a way to orchestrate the logistics of restaurants donating left over food to organization
s that connect people s
ubject to food insecurity. As it stands, there is a disconnect between the two sides, as they are each tending to the business of what they do.