The Story Behind the Knife and Fork Doors Inside Epicurean Hotel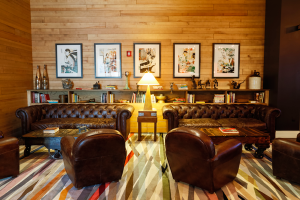 If you've had the pleasure of visiting, you know that Epicurean Hotel is unlike anything you've ever experienced in the past. We welcome all culinary connoisseurs who dare to Awaken Appetites Unknown. In fact, when we first opened our hotel doors in December 2014, we swapped the traditional ribbon cutting for a "steak-cutting ceremony" using an aged strip steak cooked by Executive Chef Chad Johnson in the Epicurean Theatre.
Every corner of the hotel property is unique and holds a story of inspiration.  Most stories pay tribute to the late Bern Laxer, founder of the famed Bern's Steak House across the street, whose legacy made the culinary inspiration of the Epicurean Hotel come to life. From food and wine inspired art to the antique luggage carts, you'll find a special seating area right when you walk inside Epicurean's doors. The library, full of comfortable leather chairs and surrounded by culinary pieces used today in the past, make any culinary connoisseur feel right at home. Sitting there, you're surrounded by Bern's personal collection of cookbooks and there's truly no other place to feel alive and inspired.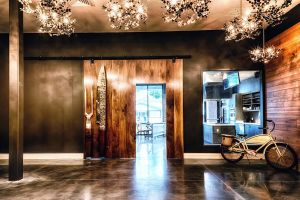 There is one piece of art that's a staple to the hotel; a one-of-a-kind duo of sorts, the famous 9' foot tall Shun knife and 6' fork carving set that's held up by two rustic barn doors. It's unlike anything you've ever seen before and is the only way to appropriately welcome our foodie guests inside the Epicurean Theatre, a 40-seat culinary classroom with amphitheater-style seating and a kitchen for food presentations, cooking classes and epic chef competitions.
Have you ever laid back in those leather couches and wondered about the story behind those two enormous metal utensils and how they came to be? Many daydream and wonder, but few know the real story.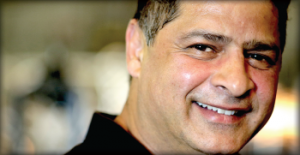 The welding artist behind the giant Shun knife and fork is the one and only, Dominique Martinez, founder and owner of Rustic Steel Creations. His love for creating custom pieces of art from steel, iron and even scraps started a long time ago. His passion not only lies in creating the unique art pieces, but also creating one-of-a-kind pieces for the public to enjoy on every corner in their community. He's known for going above and beyond to blow away all expectations — and doesn't hold back on the smallest of details. No piece is the same; each one is full of handmade details and different.
When Joe Collier, President of Mainsail Lodging & Development came to Dominique with a challenge of creating a 9' foot cutlery door piece that would be a show stopper inside the Epicurean Hotel, he got started. Not believing in the concept of drawings or mock-ups, Dominique created a mini knife and fork handle bars that glided on a steel barn door to show his concept. He went into Joe's office with his plan, not knowing if it was even what he wanted. Joe loved it. He immediately grabbed Dominique and said, "Our design team is meeting in the other room right there. Let's go in there and crash the meeting!" And so they did, with the mini door replica. It was not only a hit, but was approved for production.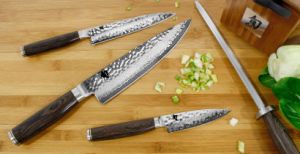 Next up, was the challenge of creating an exact replica of a Shun knife. Have you ever seen one? They are complex and full of tiny details. Dominique stressed about the weight of the utensils and how on earth he would make all of the dimples … and the wood doors were something he had never created before. But don't think that stopped him. He crafted a machine that created each dimple in the knife and for some late-night inspiration; he grabbed an Asian beer and started hand carving the handle out of walnut wood. To finish off the culinary doors, he found a giant meat tenderizer as the official door handle, making sure every single detail was carefully curated.
After making the impossible, well…possible, Joe made the request to create 142 barn doors for each of the bathrooms inside Epicurean Hotel. In less than 300-sq ft. of space, Dominique and his crew completed the doors two-weeks before the original due date.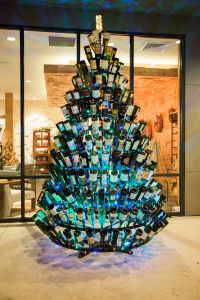 Don't think his steel footprint ends there. You can find Dominique's big bubble metal art piece upstairs at the rooftop bar, EDGE — a wildly popular and fun spot where photographers like to create crazy fisheye photos. As for the cutlery bike racks, he's the artist behind those pieces as well. Dine inside Epicurean Hotel's restaurant, Élevage and you'll discover one of his newest mural pieces inside the private dining room. And during the holidays, who could forget the epic wine bottle tree — also one of his uniquely crafted creations!
Dominique's one-of-a-kind art pieces have put him all over the map. His art takes him to amusement parks, hotels and restaurants all over the world, including art installations at other Mainsail properties. You can find his unique art pieces at Scrub Island Resort, Spa & Marina, a luxurious private-island resort located in the BVI and at Mainsail Beach Inn, an Anna Maria Island beachfront resort.
What's Dominique up to now? Well, rumor is that he may have another art piece in the works for EDGE, but he'll make no official comment on that. He's a busy guy! Dominique's most recent adventure is the purchase and restoration of a historic Tampa Heights fire station, Fire Station #5, which he plans to turn into an art studio to showcase local artists and his home.
For more information about Dominique Martinez, you can visit his website and gallery here. If you're a fan of his art inside Epicurean Hotel, his art gallery at Rustic Steel Creations is also a must-see, must-stop for art enthusiasts looking to Awaken Appetites Unknown in Tampa, Florida.