This Isn't Your Average Supper
It's back. The dinner that all foodies of Tampa Bay dream of each year. Prepare for a culinary affair that's one of a kind and oh-so-indulgent; Sunday Supper Tampa Bay. This progressive dinner party is unlike any other in the Tampa Bay area.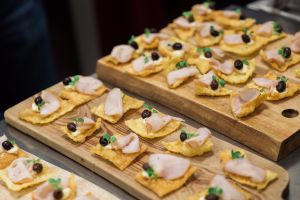 A selection of the area's top chefs will come together for one night to delight the palettes of the supper goers. Sunday Supper Tampa Bay is an epic collaboration between the powerhouses of South Howard; Haven, Élevage, Bern's Steak House and Chocolate Pi. Host chefs Chad Johnson, Courtney Orwig, Jonathan Atanacio, Hateab Hamde and Kim Yelvington will be accompanied by 24 guest chefs. With 29 of the best chefs in Tampa Bay cooking you dinner, you can rest assured this will be one of the best meals of your life.
The reception starts at 5:00pm at Haven before guests are transported via trolley to the Epicurean. Throughout the evening, over 20 courses (yes, 20) will be served with carefully selected wine, beer and cocktail pairings. Guests will enjoy live music from Phase5throughout the family style dinner. Sunday Supper Tampa Bay will benefit the James Beard Foundation, whose mission is to celebrate, nurture, and honor America's diverse culinary heritage through programs that educate and inspire. It will fund the Bern Laxer Memorial Scholarship for culinary students in the state of Florida.
Unfortunately, this event is sold out. Make sure to grab a seat for Sunday Supper Tampa Bay next year.
To learn more about this evening of culinary voyeurism, click here.
Participating Chefs & Restaurants
Host Chefs
Chad Johnson
Haven and Élevage, Tampa, FL
Courtney Orwig
Haven, Tampa, FL
Jonathan Atanacio
Élevage, Tampa, FL
Habteab Hamde
Bern's Steak House, Tampa, FL
Kim Yelvington
Chocolate Pi and Bern's Steak House, Tampa, FL
Guest Chefs
Ferrell Alvarez
Rooster & the Till, Tampa, FL
Christopher Artrip 
The Black Pearl, Dunedin, FL
Greg Baker
Fodder & Shine and The Refinery, Tampa, FL
David Benstock
Il Ritorno, Saint Petersburg, FL
Marty Blitz
Mise en Place, Tampa, FL
Michael Buttacavoli
Cena, Tampa, FL
Jason Cline
Poké Rose, Tampa, FL
Noel Cruz
Ichicoro, Tampa, FL
Ted Dorsey
The Mill, Saint Petersburg and Brandon, FL
Tyson Grant
Parkshore Grill, Saint Petersburg, FL
Joshua Hernandez
Ava, Tampa, FL
Jeffrey Hileman
FarmTable Kitchen/ Locale Market, Saint Petersburg, FL
Eric Lackey
Ulele, Tampa, FL
Jason Laukhuf
Jamison B. Breadhouse Bakes, Tampa, FL
Lauren Macellero
Reading Room, St. Petersburg, Florida
BT Nguyen
Restaurant BT, BT Bistro and BT to Go Tampa, FL
Chris Ponte
Cafe Ponte and On Swann, Clearwater, FL
Rob Reinsmith
Noble Crust, Saint Petersburg and Wesley Chapel, Florida
Jason Ruhe
Brick and Mortar, St. Petersburg, FL