Uber Partnership & Free Bikes – You are always connected at the Epicurean!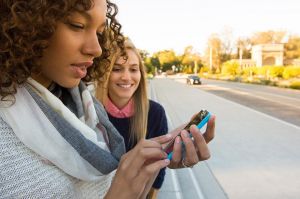 In case you haven't heard, we have exciting news to share.  The Epicurean Hotel has partnered with Uber, who is evolving the way the world moves by seamlessly connecting riders to drivers through their app.  The nifty thing we can offer our guests is that our Epicurean Hosts can quickly summon an Uber driver on their iPads, and the "approved" charges will then be automatically applied to the guest's room.  Sure, you can whip out your phone and do it yourself, but the Uber Concierge app promises faster response times.  Not only that, but now your charges will be on your guest room folio, and if you're traveling on business, this will make that expense report so much easier!
 Uber is the perfect mode of transportation to and from Tampa International Airport, but it will also come in handy if you're attending a conference at the Tampa Convention Center, heading to the Cruise Ship Terminals or visiting world-class attractions like Busch Gardens, The Florida Aquarium or Tampa's Lowry Park Zoo.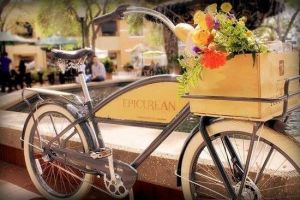 For more leisurely commutes that include SoHo, Hyde Park and downtown Tampa, why not choose one of our complimentary bicycles (pictured here in Hyde Park Village)?  Pedaling past South Tampa homes, enjoying the view along Bayshore Boulevard or getting a retail fix in Hyde Park Village are delightful escapes from the everyday world.  Our bicycles can also easily connect you to downtown where you can catch a concert at Curtis Hixon Park, amble through the Tampa Museum of Art, discover The Riverwalk, or board a Tampa e-Boat where you'll be able to view the downtown skyline from the water.  Packing a picnic from Élevage, along with a bottle of Cava from Bern's Fine Wines & Spirits, will make the journey all the more festive.  And thanks to our friends with Hyde Park Village, our bicycle inventory has increased, so there's usually always inventory available when you're ready for a two-wheeled adventure!
Insider's Tip: Before leaving the hotel, resist the urge to take the major roads.  Consult with the Epicurean Hosts who can direct you down some quiet, tree-lined streets showcasing 1920's architecture, including Queen Anne bungalows, the signature home that was originally built when South Tampa was developed.  Also, don't miss Davis Islands where you can practically get lost on the twisting, curvy roads.