Watercolors & Wine
Bring out your inner artiste at the Watercolor Florals class hosted by The Paper Seahorse inside the Epicurean Theatre. You may be thinking to yourself "what's a paper seahorse?"  Let me clear that up for you.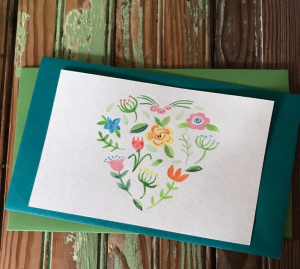 The Paper Seahorse describes themselves as a paperie and a makerie. I like to think of it as a grown up arts and crafts center. Our creative neighbor is located on South Howard, just a stone's throw away from the Epicurean Hotel. One look at the adorable exterior of The Paper Seahorse and you will want to get your creative juices flowing right then and there. This artistic space allows Tampanians to create, express and come together around the love of art; we approve! Classes range from typewriter experiences and embroidery to pet collages and open studios for the public to hang their work. You name it, The Paper Seahorse does it. Check out their event calendar here!
Spend a night with your paint brush to your paper and your wine glass to your lips during this beginner watercolor florals class on Thursday, July 27th from 6:00pm – 8:30pm. During the class, you will learn to combine opaque watercolors with traditional watercolors and create your work of art, a floral heart. Learn a new skill and fall in love with painting or brush up (pun intended) on your basics during the guided course. Painters will be provided with 5×7 paper, paint brush, paint, floral templates and a watercolor basics handout. Two complimentary glasses of wine will be provided to allow artistes to paint with no inhibitions. Dine at Élevage before you paint the night away for a girl's night out!
Purchase a ticket to "The Paper Seahorse: Watercolor Florals" class here before they sell out!