Weekend To-Do's: November 10-12, 2017
Looking for things to do this weekend in Tampa?  We have you covered.
Pilates & Prosecco: Saturday, November 11th, 9:30am – 10:30am
Work on your body-mind connection and reward yourself with a glass of bubbly.  We invite you to Epicurean's newest workout class series; Pilates & Prosecco!  Gather your friends this Saturday inside Epicurean's Grand Cru Ballroom for a morning of core strengthening followed by a gratifying glass of prosecco.  Classes will be taught by the "Contrology" experts from Club Pilates South Tampa, one of Epicurean's newest neighbors. There is no better way to start off the weekend than working on your core and indulging with a glass of prosecco. Purchase your tickets here.
Sunday Supper Tampa: Sunday, November 12th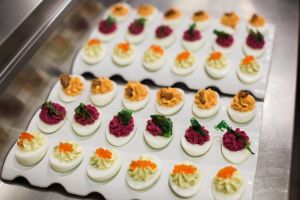 from 5:00pm – 9:00pm
A selection of the area's top chefs will come together for one night to delight the palettes of the supper goers. Sunday Supper Tampa Bay is an epic collaboration between the powerhouses of South Howard; Haven, Élevage, Bern's Steak House and Chocolate Pi. Host chefs Chad Johnson, Courtney Orwig, Jonathan Atanacio, Hateab Hamde and Kim Yelvington will be accompanied by 24 guest chefs. With 29 of the best chefs in Tampa Bay cooking you dinner, you can rest assured this will be one of the best meals of your life. Lucky for you, a few tickets have opened up last minute!  Snag a seat at Tampa Bay's most sought out dinner here.
Tampa Greek Festival: Sunday, November 10th – 12th, St. John the Baptist Greek Orthodox Church  
Enjoy fresh Greek food, live music, unique shopping and live traditional Greek dancing all inside the beautiful church built in the early 1950's. This cultural event is one locals wait for all year. You had us at fresh Greek food.
Junior League of Tampa Holiday Gift Market: Saturday, November 10th – 12th, Florida State Fairgrounds, Expo Hall  
It's the most wonderful time of the year. That's right, The Junior League of Tampa's Holiday Gift Market is back! This year over 160 vendors will be at the Florida State Fairgrounds for three days of holiday gift bliss. From jewelry and art to children's gifts and food, there will be a wide range of vendors to help you snag the perfect gift for everyone in your family. Purchase a ticket here.
Industry Night on EDGE: Every Monday Night from 5:00pm – 11:00pm
Consider this a toast to those who are usually the ones pouring the toasts. Monday nights on EDGE are now dedicated to the hard-working men and women of the hospitality service industry. We know that you spend most of the weekends working; think of this as your Friday night, which you so deserve. Gather with your coworkers and fellow industry service comrades at South Tampa's only rooftop bar for the best Monday night drink specials in Tampa! Here's how it works; present proof of hospitality industry employment and receive 50% off all drinks. Paying half the price means you can drink double the amount, right? At least we think so. As fellow industry service workers, we know how hard you all work. Cheers to you!
Upcoming Events
Cupcakes & Cocktails: Give Thanks for Cupcakes: Monday, November 13th from 7:00pm – 9:00pm
Join Chef Beth from Cloud Nine Confections for Cupcakes and Cocktails, Thanksgiving style. Learn to whip up modern takes on Thanksgiving dessert classics.  Sweet Potato Pie, Maple Pecan and Hard Apple cupcakes are on the menu. Enjoy cocktails while you bake and frost six cupcakes to take home. Buy your ticket today and impress the family with your cupcake baking talents this turkey day!
The Art of Sushi with Chef Viet Vo: Wednesday, November 15th from 7:00pm – 9:00pm
Master the art of sushi rolling with seasoned sushi chef, Chef Viet Vo. This hands on class will have you rolling sushi at home in no time. Enjoy your freshly rolled sushi while drinking your choice of red or white wine during the class. Buy your tickets today before they sell out!
Thanksgiving at Élevage
Not looking forward to slaving away in the kitchen on Thanksgiving and the endless cleanup that follows? We figured. Book a table at Élevage for Thanksgiving Dinner. Join us for a hassle free, 3-course feast! With traditional dishes like Roasted Turkey and Pumpkin Bread Pudding and modern dishes including Crispy Duck Confit and Grilled Quail. Make a reservation today.
Black Friday Offerings
Epicurean is your one-stop shop for creative, thoughtful and unique gifts this Black Friday! Shop discounted retail, snag gift card bonuses and sweet spa deals. After a long morning of shopping, reward yourself with a Black Friday brunch at Élevage! Make a reservation here.
Epicurean Must Do's
Élevage Happy Hour: Join us for the happiest of hours at Élevage. Enjoy tasty appetizers, select wines and cocktails for $5 and choice beers for $3 every day (yes, every day). Why limit happy to an hour? Enjoy happy hour pricing from 3pm to 7pm. The offerings will change daily but prices stay the same! Pop in. Be seen. And join the hottest happy hour in South Tampa.
50 Cent Martini Lunches: Élevage is serving up 50 cent martinis for lunch! Head over to Élevage Monday through Friday between 11am to 3pm and enjoy 50 cent martinis when you purchase a lunch entrée. Just think, you could have seven martinis for the price of one latte. We think Don Draper would approve. It's the best Tampa lunch special around. Click here for more details.
And while you're at it, visit the CASS Art Exhibition: Niark1 in the library lounge of Epicurean before the next artist arrives to our rotating satellite gallery. You won't be able to miss the colorful monsters and creatures that brought this French artist to fame!  Be sure to experience Niakrk1's entire collection at CASS Contemporary Art Space & Studio.