Weekend To-Do's: November 17-19, 2017
Looking for things to do this weekend in Tampa?  We have you covered with events at the Epicurean Hotel and beyond.
Yoga With A Twist: Sunday, November 19th from 10:00 am – 11:00 am
Start your Sunday morning finding your zen followed by a much deserved glass of bubbly. Join us for Yoga With A Twist on the Garden Terrace this weekend. Megan Blizard, better known as Yogi Blizz of Kodawari Studios, will lead the Sunday morning yoga class. All levels are welcome to take part in this relaxing group yoga session. For every yogi in attendance, Conscious Coconut will give a child a meal through Feeding Tampa Bay! The first 5 people to arrive get a free tube of Conscious Coconut oil. After the session, stay for an exclusive brunch at 10% off with discounted drinks in Élevage from 11:00 AM – 1:00 PM. Click here to secure your spot today!
Christmas Movies at Curtis Hixon Park: November 17-18 at 7:30pm
It's never too early to start watching Christmas movies! Head to Curtis Hixon Park in Downtown Tampa for an outdoor movie. Bring a blanket, snack and your loved ones to enjoy Christmas classics surrounded by fresh air. Friday, the classic White Christmas will play and Saturday is everyone's favorite; Home Alone. Both movies start at 7:30pm. Did we mention they are free?
Dali & Schiaparelli: Now through January 14th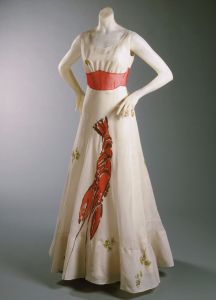 at The Dali Museum
For a limited time, explore the collaborations between famed art innovators of their time, artist Salvador Dali and designer Elsa Schiaparelli. Admire her before her time, modern designs that made waves in the 1930's and 1940's. Her dresses can be seen on throughout the decades and still graces the runway in 2017. Discover the unique relationship between the two masterminds. The exhibit ends January 14th, so be sure to make it to The Dali in St. Pete before these works of art make their way back to the Metropolitan Museum and the Philadelphia Museum of Art.
Thanksgiving at Élevage: Thursday, November 23rd
Not looking forward to slaving away in the kitchen on Thanksgiving and the endless cleanup that follows? We figured. Book a table at Élevage for Thanksgiving dinner in Tampa. Join us for a hassle free, 3-course feast! With traditional dishes like Roasted Turkey and Pumpkin Bread Pudding and modern dishes including Crispy Duck Confit and Grilled Quail. Thanksgiving is one short week away, make a reservation today.
Black Friday Offerings: Starting Friday, November 24th
Epicurean is your one-stop shop for creative, thoughtful and unique gifts this Black Friday! Shop discounted retail, snag gift card bonuses and sweet spa deals. View all of our offerings here. After a long morning of shopping, reward yourself with a Black Friday brunch at Élevage! Make a brunch reservation here.
Industry Night on EDGE: Every Monday from 5:00pm – 11:00pm
Consider this a toast to those who are usually the ones pouring the toasts. Monday nights on EDGE are now dedicated to the hard-working men and women of the hospitality service industry. We know that you spend most of the weekends working; think of this as your Friday night, which you so deserve. Gather with your coworkers and fellow industry service comrades at South Tampa's only rooftop bar for the best Monday night drink specials in Tampa! Here's how it works; present proof of hospitality industry employment and receive 50% off all drinks. Paying half the price means you can drink double the amount, right? At least we think so. As fellow industry service workers, we know how hard you all work. Cheers to you!
Epicurean Must Do's
Élevage Happy Hour: Join us for the happiest of hours at Élevage. Enjoy tasty appetizers, select wines and cocktails for $5 and choice beers for $3 every day (yes, every day). Why limit happy to an hour? Enjoy happy hour pricing from 3pm to 7pm. The offerings will change daily but prices stay the same! Pop in. Be seen. And join the hottest happy hour in South Tampa.
50 Cent Martini Lunches: Élevage is serving up 50 cent martinis for lunch! Head over to Élevage Monday through Friday between 11am to 3pm and enjoy 50 cent martinis when you purchase a lunch entrée. Just think, you could have seven martinis for the price of one latte. We think Don Draper would approve. It's the best Tampa lunch special around. Click here for more details.
And while you're at it, visit the CASS Art Exhibition: Niark1 in the library lounge of Epicurean before the next artist arrives to our rotating satellite gallery. You won't be able to miss the colorful monsters and creatures that brought this French artist to fame!  Be sure to experience Niakrk1's entire collection at CASS Contemporary Art Space & Studio.