Where Love Grows Cooking Classes
Tampa is known to be a foodie's paradise these days and we're not complaining. But did you know that Tampa Bay also has one of the highest rates of childhood hunger in the United States? In our own backyard, there are kids going to sleep hungry every night. Let's do something about it, fellow Tampanians!
Every summer, the Epicurean Hotel strives to make a dent in that statistic. For the past four years, Epicurean has partnered with Where Love Grows and Boys & Girls Club of Tampa to host a five series cooking class for kids, teaching them how to cook full meals for themselves.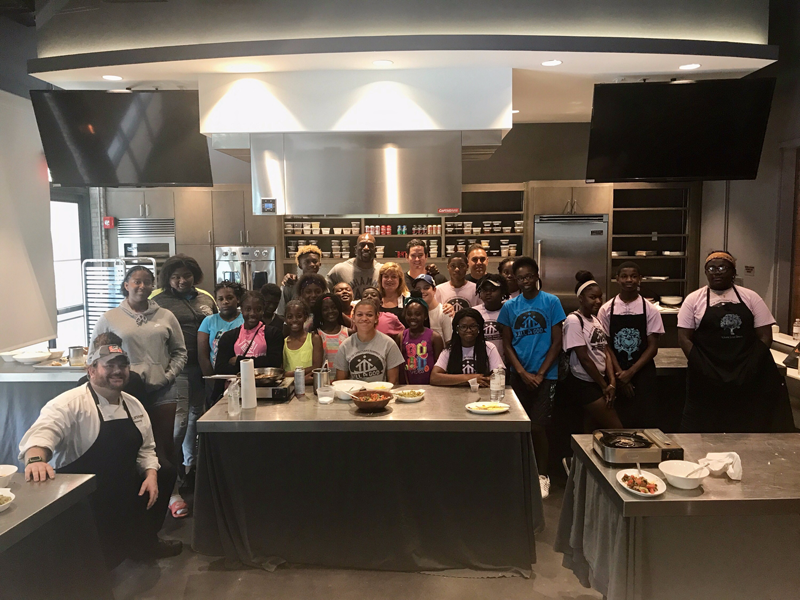 Local students from Lockhart Elementary Magnet School and Tampa Area Boys & Girls Club test out their sous chef skills inside the Epicurean Theatre during summer break. The course begins with a tour of the Epicurean Hotel and tour of Bern's Steak House by owner, David Laxer. The five-series cooking classes have one goal in mind; give kids the tools they need to help end childhood hunger. Each class is centered around learning how to cook a complete meal, being able to make their own lunches for school and basic nutrition lessons. Cooking hands on in a fully-equipped Wolf & Sub-Zero kitchen can spark an interest in the culinary world they may not have known they had. At the end of the series, a ceremony and graduation is held. This year, 23 junior chefs will graduate.
Where Love Grows is a local organization that has a zero tolerance for childhood hunger. Their programs address the immediate needs of hungry children while implementing a long-term positive impact with mobile cooking classes and family dinner nights. Since opening its doors in 2013, their team of volunteers has served over 8,400 meals to hungry kids across Tampa!
Want to help in the crusade on childhood hunger? Click here to donate to Where Love Grows. Every little bit helps.