Whitney Miller Returns for a Mississippi Blues Class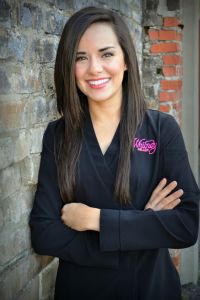 Whitney Miller 
is no stranger to the Epicurean Theatre or the spotlight. This southern belle visited the Epicurean Theatre last year and produced an amazing cooking class and a fun book signing! Good news, she's back by popular demand to showcase some of her favorite blueberry recipes in partnership with the Epicurean Hotel and 
Wish Farms
.
For those of you that don't know, Whitney has southern roots as well as international culinary experience. All of her home-cooked recipes are exciting, accessible and "company-worthy." Her 97 year-old great-grandmother and her mother inspired her to begin cooking at an early age. At twenty two, Whitney won the show "Masterchef," gaining the title of Fox's first U.S. Masterchef. Soon afterward, Whitney obtained her degree, with an emphasis in nutrition, from the University of Southern Mississippi.
Her cookbook, Modern Hospitality: Simple Recipes with Southern Charm, with foreword by Gordon Ramsay, and most recently, Whitney Miller's New Southern Table. Her recipes have also been featured in the Masterchef and Ultimate Materchefcookbooks. She is a food writer for magazines including; Flavors (Atlanta), Taste of Home, Southern Living, andEat. Drink. Mississippi. Her recipes, articles, and book promotions have appeared in People, Women's Health, Masterchef,Clean Eating, Southern Living, and Cooking Light magazines as well as online at Self, California Olive Ranch, SousVide Supreme.com, and Tervis.com.
What's on the blueberry-themed menu?
Spring Arugula Salad with buttermilk-ricotta cheese, Wish Farm blueberries and grilled peaches

Bacon-wrapped Pork Tenderloin with blueberry-blackberry sauce, roasted rainbow carrots and chimichurri, and creamy cauliflower puree
Blueberry-Pecan Crunch with vanilla ice cream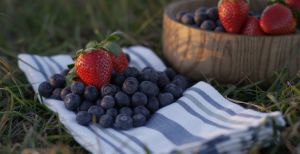 *All blueberries are local Florida blueberries provided by Wish Farms.
Join us on Tuesday, April 26, from 7 p.m.-9 p.m. inside the Epicurean Theatre to Awaken Appetites Unknownwith Chef Whitney Miller. Tickets are $65 per person and can be purchased in advance at www.EpicureanTheatre.com.
Get to know Whitney Miller: Earlier this year, before her class at the Epicurean Theatre, I had the chance to catch up with Whitney and if you missed the fun Q&A you can find it here.