Wine-down Monday with Pacific Northwest Wines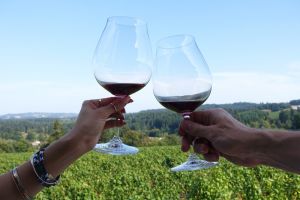 Does anyone really enjoy Mondays? After an amazing weekend with friends and family, heading back to work on a Monday can definitely be challenging. Listen, we hear ya and have a solution!
This Monday, we've got a class inside the Epicurean Theatre that may cure those Monday blues. Bern's Fine Wines & Spirits will host a class inside the Epicurean Theatre featuring Pacific Northwest wines from 7 p.m. to 8:30 p.m.
During the class you'll learn the history of two great wine states, Oregon and Washington. Wine experts will take you through the state's geology, climate, soil profiles and which grapes grow best in each state.
A class inside the Epicurean Theatre wouldn't be complete without wine of course! You'll dive into some of the best wines from Oregon and Washington paired along with a cheese and charcuterie plate handcrafted from the Élevage kitchen.
This class costs $55 and you can reserve your seat by visiting www.EpicureanTheatre.com.
Let's be honest, wine and cheese is always the perfect way to end any day. It can be especially be rewarding on a manic Monday, so we hope to see you there to awaken appetites unknown.