Your Sneak Peek Inside the 2017 College Football Playoff National Championship in Tampa
Just shy of a week away, the National College Football Championship makes its way to Tampa, Florida, and we couldn't be more pleased to roll out the red carpet to college football fans in our hometown and out-of-town guests.
From the Taste of the Companionship at The Florida Aquarium, to the Championship Yacht Village at the Tampa Convention Center and to the Championship Tailgate VIP tent, our family of brands couldn't be more excited to team up and sponsor an incredible event taking center stage in Tampa Bay.
"This is the most significant college marquee event we could host and is the culmination of a massive community effort led by the Tampa Bay Sports Commission," stated Joe Collier, president of Mainsail Lodging & Development and the current chair of the sports commission. "This will once again place Tampa in the spotlight as a primary sports destination as millions of people will tune in to watch the game."
The Florida Aquarium hosts the Taste of the Championship on Sunday, January 8 (7-10 pm), where football fans can enjoy an evening mingling with former college football stars, sample gourmet food and beverages from some of Tampa Bay's best restaurants, including our own — Bern's Steak House and Haven. Tickets are $250 per person and not only include admission to the beautiful Florida Aquarium, but also unlimited food and beverages and the chance to mingle with celebrities. Proceeds from this event support the College Football Playoff Foundation's Extra Yard for Teachers.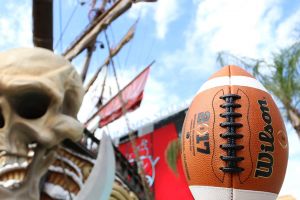 Ahoy! The Championship Yacht Village from January 3 – January 10 will provide VIP-access for dock-space purchasers, in the heart of the College Football Playoff Championship. Local and visiting football fans can travel to Championship Campus via boat and drop anchor on the Hillsborough River in the Tampa Convention Center by reserving their space in advance. Our parent company, Mainsail Lodging & Development, will host our own yacht (invite only), but others are encouraged to reserve your slip today, as spots are filling up fast!
Ready for the ultimate game day tailgate featuring interactive games, sponsor activities, concession and ESPN broadcast sets? Visit the Championship Tailgate event before the game on Monday, Jan. 9, from noon-6:30 pm. Multi-platinum singer and songwriter Dierks Bentley will headline the Capital One Quicksilver Music Stage, and this event is free for all national championship game ticket holders.
As far as hotel accommodations go, we're unfortunately already sold out. Please visit the College Football Playoff website to check out other fan housing.