Feed Your Weekend Appetite (And More) at the Epicurean June 7- July 9
Second Sunday Summer SPLASH, Sunday, July 9th, 1:00pm – 6:00pm
Epicurean Hotel's summer pool party is this weekend, so get your summer on this Sunday. Big Green Egg BBQ plus giant pool floats plus DJ Fresh equals the best.Sunday.ever. Cool down with craft cocktails and Dos Equis beer specials. Snag free goodies and giveaways during the Dos Equis takeover at SPLASH! Drink up and dive in from 1pm to 6pm. VIP cabanas are sold out, but you can put your name on the waitlist here. General admission tickets are selling fast, so purchase them here before they're gone! For more details and info about how to score complimentary admission, click here.
Sneak Peak of Eliza Ann's Coastal Kitchen Menu at Élevage, Friday, July 7th & Saturday, July 8th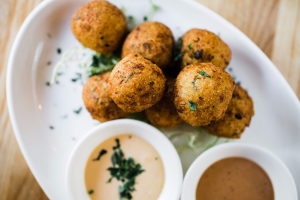 This Friday and Saturday only, Élevage will offer a sneak peak of the gulf inspired menu of Eliza Ann's Coastal Kitchen. Waterline Marina Resort & Beach Club will open its doors this fall, but you get to delight your taste buds with a three course menu this weekend. Eliza Ann's Coastal Kitchen is just steps from the water's edge and will feature casual coastal cuisine with a twist. Indulge on Crab Hushpuppies (SOLD), Florida Rockefeller and Fruit Smoked Steak Frites. What is a better way to spend a warm summer night than sampling fresh seafood? We can't think of anything either.
Epic Chef Showdown, Monday, July 10th, 6:30pm – 8:30pm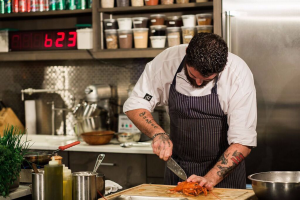 The 3rd annul Epic Chef Showdown benefiting Feeding Tampa Bay is back! This live cooking competition pits the best chefs of Tampa Bay against each other for an entertaining show and delicious meal. Here's how it works; each week the two competing chefs will be challenged with cooking two unique dishes using unusual ingredients. In front of a live audience, the judges will choose a winner and they will move on the next round in the following weeks. Attendees will receive a coursed meal with wine pairings. Click here to buy tickets for the first round of Epic Chef Showdown featuring The Mill vs. Locale Market/FarmTable Kitchen.
Cupcakes & Cocktails, Tuesday, July 18th, from 7:00pm – 9:00pm
Freshly made frosting washed down with a freshly made cocktail, yes please! Join us at the Epicurean Theatre for a night of sweets and spirits. Chef Beth from Cloud 9 Confections will teach you how to make classic summertime cocktail cupcakes and libations to match! What's on the menu? Mojito, Pina Colada and Strawberry Margarita cupcakes. Try your hand at decorating 6 cupcakes, bring them home for the family or just eat them all to yourself (we don't judge). Tickets are almost sold out, buy one here!
Ybor City Mac & Cheese Fest, Saturday, July 8th from 1:00pm – 8:00pm
Foodies unite! It's a cheese lover's dream come true at the Ybor City Mac & Cheese Fest this Saturday. Head over to the Centro Asturiano de Tampa's Festival Grounds with an appetite and indulge at over 10 food trucks will be serving up their spin on mac & cheese and best dessert dishes! Listen to Jah Movement Reggae Band, voted Number one Reggae Band by Creative Loafing, from 4pm – 7pm. Did we mention it's free to attend? Time to start fasting.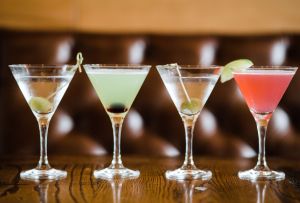 50 Cent Martini Lunches, Weekdays in Élevage from 11:00am – 3:00pm 
Élevage is serving up 50 cent martinis for lunch! Head over to Élevage Monday through Friday between 11am to 3pm and enjoy 50 cent martinis when you purchase a lunch entrée. Just think, you could have seven martinis for the price of one latte. I know some of you may be thinking "I can't drink a martini in the middle of the day." Actually you can and the real question is "Why shouldn't I drink a martini at one in the afternoon?" We think Don Draper would approve. It's the best Tampa lunch special around. Click here for more details.
Epicurean Must Do's
Head up to EDGE Social Drinkery for rooftop cocktails and superior sunset views. Weekend goal = try all of the new cocktails being poured, shaken and stirred at EDGE. Or, grab a bite off the new food menu. Starting Monday, July 3rd, EDGE will be closed every Sunday and Monday through the month of August for seasonal summer hours.
While you're sipping on libations, stare in awe of the newly painted mural by artist Dalek at EDGE. The bold patterns and bright colors are the perfect backdrop for that evening cocktail or Instagram-worthy selfie. Check out this awesome video of all it took to create this work of art.
And while you're at it, visit the current CASS Art Exhibition: Chris Valle in the library lounge of Epicurean. Just look for the skulls and Chanel C's adorning the walls. Be sure to experience Chris Valle's entire collection at CASS Contemporary Art Space & Studio.