Krug Champagne Supper Club
Join us for an evening of culinary voyeurism at the Epicurean Hotel on Thursday, November 16th. Lovers of all things food and champagne, this is the event for you. The talented chefs of Élevage are coming together with Krug Champagne to create a multicourse meal fit for royalty.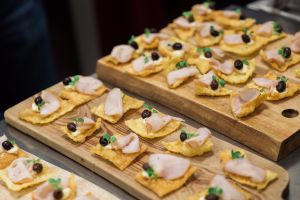 Here's how it works; guests will be seated at a community style table as Chef Chad Johnson and Jon Atanacio prepare the adventurous meals just feet from your table in the Epicurean Theatre. Not only will you eat a unique meal fit for elevated palate, you will watch the artistry it takes to prepare each dish. This is no ordinary dinner; the chefs will use exceptional ingredients with classical and modern takes on each decadent dish.
Each course will be paired with a glass of world-renowned champagne from the Krug portfolio. Garth Hogdon, a seasoned ambassador from Krug Champagne, will give insightful tasting notes and information on the Krug legacy throughout the evening.
Mingle with old friends and new during the night as you interact with the chefs. Learn a new technique or discover your new favorite meal.
Tickets will sell out soon, secure your spot at Tampa Bay's most enviable dinner today!
Reception
Krug Grand Cuvee 163eme Edition Brut, Magnum
Smoked Chicken Croquette
crème fraiche, chervil
Pork Belly & Lobster Mousse
brioche, espelette
Seated Courses
Krug Vintage Brut 2004
Butter Poached King Crab
black truffle quiche, curry soubise, sorrel
Krug Vintage Brut 2003
Inspired by Paella
rabbit saddle, escargot, bomba rice, saffron jus
Krug Rose Brut
Vitello Tonatto
tuna mignon, veal tartare, half dried tomato, prosciutto, pomegranate
Krug Grand Cuvee 161eme Edition Brut
Le Dauphin Double Crème
apple, warm financier, candied lemon, quince honey